What is the first feature we are looking for when we decide to buy a car?
Without doubt, reliability. However, in addition to the security factor, as we say ….. "even appearances count!", so what it looks like is also important.
After a choice has been made, there is only one more thing to do … equip yourself with optional extras to ensure maximum comfort.
Are there really optional extras even for security cabinets? Of course!
The main functions of a security cabinet are to store weapons, important documents, valuables … Viro therefore proposes three types of cabinets: gun, document and modular cabinets.
Document cabinet
The main internal accessory of document cabinets consists of the shelves on which the documents and objects can be placed. For greater flexibility of use, it is very handy if the shelves can be positioned as desired, and, if possible, that additional shelves can also be fitted at a later date.
Moreover, before buying a cabinet, it is a good idea to make sure that the requirements for which you are choosing a product can actually be satisfied, checking first the dimensions and the capacity of the shelves. For example, the shelves of Viro security cabinets each hold up to 15 kg and have dimensions such that they can carry without problems both laptops and bulky ring binders.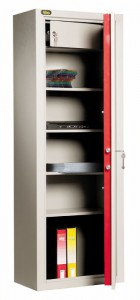 Gun cabinet
A good gun cabinet is fitted with butt supports in the base and barrel supports on the bottom, made of high density polyethylene, so that they are scratch-proof and do not damage the guns stored. Before purchasing a cabinet it is necessary to check that the dimensions of the barrel support are suitable for the guns to be housed. Particular attention should be paid to double-barrelled rifles or ones fitted with sights, which require larger supports.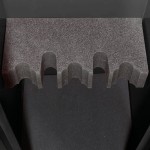 Modular cabinet
Modular cabinets hold both rifles and handguns or documents and other items. They can therefore be fitted both with butt and barrel supports and with shelves.
The accessories useful for the three types of cabinets can be:
– Safety box
This is an internal compartment protected by a further closed door with a lock different from that of the cabinet. The presence of a lock different from that of the cabinet is practical to ensure that particular objects or documents cannot be reached by other people who normally use the cabinet. It can be used, for example, as a place to store ammunition or hold sensitive and confidential personal documents.
– Interior climate control systems. Since guns are particularly sensitive to humidity, the Viro digital weather station,which allows you to monitor the temperature and humidityinside the cabinet, is an ideal ally for their perfect preservation, as well as of documents. It is also useful for forecasting the weather for the day, in order, for example, to help choose one's clothing and equipment for the day's shooting, according to the expected weather conditions.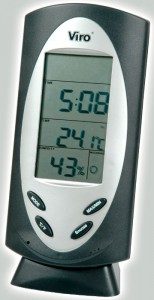 – Inside lighting. This is a particularly useful accessory for easily finding the smallest objects even in the more poorly illuminated corners of the cabinet. It is battery operated and can be applied in any desired point. A special sensor switches it ON and OFF when the door is opened and closed.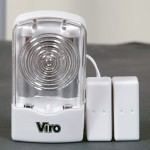 Conclusions
All the Viro accessories designed for the security cabinets, just like the optional extras for cars, do not play a leading role in the protection of guns or documents placed inside, but contribute to their good preservation. After all, if we have decided to buy a security cabinet to protect them, they are undoubtedly objects to which we attach great importance and Viro offers the right accessories to keep them at their best.
See all the Viro Security Cabinets