If we know what are the techniques used by thieves to enter our homeswe can take the necessary countermeasures. As also reconfirmed in 2017 (with data for the previous 2 years) from an official source such as ISTAT, the National Statistics Institute, which published a report on crimes and security, since 2008 the number of thefts in the apartment has definitely increased.
In 2010 (last year available for this analysis) ISTAT also published a chart with statistics of how thieves enter homes.
Which is the most commonly used technique? And what measures must be taken to defend your home?
Forget about the refined techniques of the comic book villains. The picture of the typical thiefwhich emerges from this chart is much more mundane: an individual who first and foremost take advantages of our lack of attention, suchas a door left open, and, if some kind of effort really is needed, uses quite rudimentary techniques, such as breaking a door or a window.
The last one out closes the door!
The method most commonly used by burglars to enter a home is simply to pass through an open window, balcony, garage or even a door. This takes place in 34% of cases. In other words, one theft in every three makes use of simple carelessness. The first security factoris simply:remember to close doors and windows! Especially when you're not home. 76% of burglaries take place when there's no one in the house.
Don't open that door
In second place we find brute force attacks on the doors. In 27% of cases the door has been broken, unhinged or forced open. The second security factor is therefore to have a door and a lock which can effectively withstand attempts to break them,mostly using common tools such as hammers, levers and pliers. This is why it is important to install a good quality armoured door or, alternatively, reinforce the existing door with a locking bar and protect the lock with a security escutcheon.
Having a strong door, and remembering to close it, it protects us against 60% of attempted burglaries.
A window of opportunity (for thieves)
In third place we find windows which are broken, forced or dismantled. This occurs in 12% of burglaries. So, after suitably reinforcing the door, the correct strategy is to adequately protect the other potential access points. There are many possible solutions: install a locking bar on the shutters, use armoured shutters or mount the old fashioned, but always effective, grilles.
And lock picking?
If you do some Internet research on how to open a door you might be surprised by how simple it seems to be to open locks and padlocks seemingly without effort. In reality, things are a little more complex than how the videos on the Internet might make one believe. So much so that only 5% of burglaries take place using sophisticated techniques such as lock picking or key bumping. It is however strongly advisable to protect oneself against this threat, for example by installing a high security cylinder such as the Viro Palladium.
However, the first step is to take effective countermeasures against the most common attacks.
As we say in Italian …. To trust is good, but not to trust is better
If one looks in more detail, it will be seen that almost all burglaries are the result of the inattention or naivety of the home owners. In 7% of cases the burglary was carried out by a person who was already in the house, as a guest or a cleaner, for example. Another 2% were performed by people who persuaded the owner to let them enter the house. Lastly, in 1% of cases, the burglar opened the door using the keys found in the keyhole. If safeguarding oneself from a guest or a cleaner is not easy we can at least avoid letting strangers in, even if they are well-dressed and seemingly have very good reasons, and be careful not to forget the keys in the door!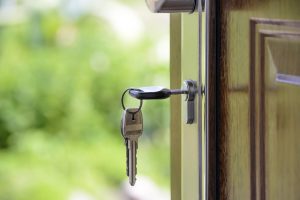 By analysing this data we can draw a few conclusions. The first is that before being a technological issue security is actually a problem of behaviour. This means that we can all do something to be immediately more secure. The second conclusion, however, is that we must check the ability of our front door and the other access points to the house to defend it effectively.
If this is not the case, it would be advisable to integrate the existing locking systems with additional reliable and good quality products.
Do you have a garage to protect? Find out how to do it on garage.virosecurityclub.com!