Type of installation, dimensions and closing mechanism of the safe: here are the first three characteristics to evaluate even before comparing the different models of homes.
Security safes are generally installed in at a certain point of the house and then remain there for a lifetime. Since it is a long-lasting item it is important to evaluate some details that will prove useful over time, both from the point of view of security and practicality.
1. Installation: floor safes, wall safes or free standing safes?
Floor safes, designed to be installed flush with the floor, can have some drawbacks. In addition to being cumbersome during daily use, due to the need to hide them under a carpet or under a movable portion of the floor and with a door which is generally heavy to open, they are placed in a favourable position for the thief, who will have more room to manoeuvre and will be able to perform more "natural" movements to try to open them, such as hammering the door by striking it from above, and therefore facilitated by the force of gravity.

In order to exploit the maximum potential of wall or built-in safes, it is firstly important to position them at the right height: for example, an installation at eye level will be comfortable for daily use and at the same time uncomfortable for opening with burglary tools. During the masonry works it is essential, in order to ensure a good fixing, to ensure the use of the correct cement mixture and materials, which take into consideration the type of wall. If you are interested in this type of installation will find more details here:
With regard to free standing safes, however, it is worth checking the number of fixing points, which should never be less than 4 in order to better resist a possible break-in attempt. Furthermore, the plugs should be of considerable size, equipped with pull resistant tabs and offer maximum resistance according to the type of wall. Again, it is very important to choose the correct height.
Furthermore, when installing a safe, it is advisable to:
– choose a strategic point of the house, such as a narrow corridor or a corner, where the room for manoeuvre for a potential thief is limited.
– try to be as discreet as possible regarding the final installation location of the safe. The fewer people know where it is, the better.
2. Small safe for home or large ones?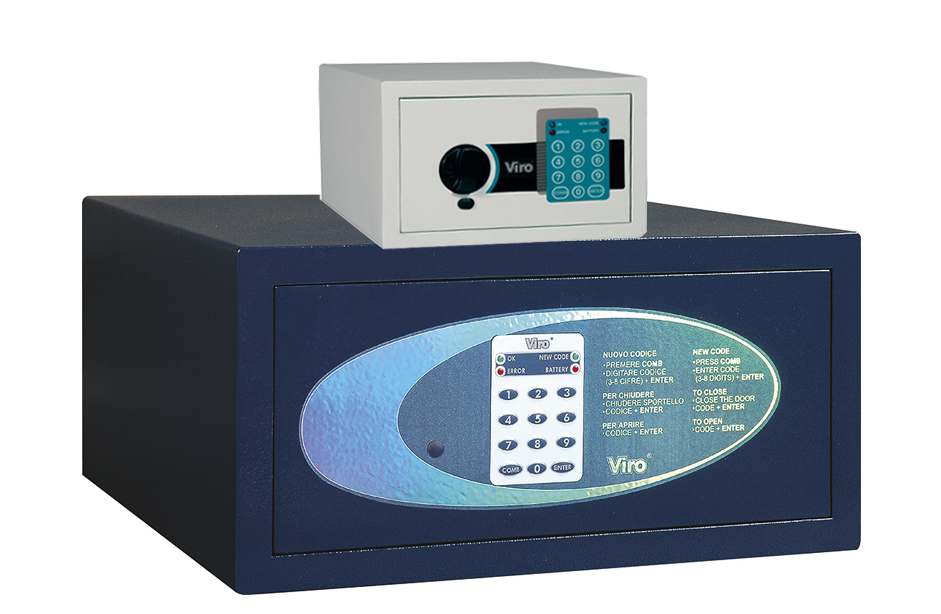 The size of a safe should be chosen not only according to where it is to be installed (see above), but also depending on the items which are intended to be kept inside.

A small safe for home, for example, is generally perfect for holding jewelry, documents, or small-sized valuables. On the other hand, if you think that, even in the future, you might need to store more bulky objects, it will be better to move towards more spacious models.

To discover the many advantages of a small safe, such as the Viro "MINI" safe, read here.

If, on the other hand, you are already oriented towards a safe that can hold a laptop, a "MAXI" type safe could, for example, be a better choice.

3. Safes and locking mechanism: which one?
Finally, before comparing the various models on the market, we invite you to keep in mind the different locking mechanisms and the consequent advantages and disadvantages. Here are the possible solutions:
Key safe lock box: This is probably the simplest lock, but it raises the question of where to keep the key

Safe with mechanical combination: it saves us from having to think about where to keep the key, but compared to the electronic ones it has a much more limited number of combinations

Safe with numerical combination (electronic): it combines the practicality of not having to hide the key, with the security given by the very high number of possible combinations

Biometric safe: thanks tothe systems for reading biometric characteristics, such as fingerprints, it combines practicality and security, see, for example, the Viro Ram-Touch II range.
>> Do you want to know more about these locking mechanisms? Click here!
>> Are you ready to choose your home safe? Take a look at the range of Viro Safes!