In the previous article we talked about the importance of securing all electronic devices which can contain private and sensitive data.
The manufacturers of these devices provide several default tools to prevent the data they contain from being viewed by prying eyes.
In the case of laptops it is possible to restrict access to sensitive data, for example, by setting a password for each specific user, other passwords for viewing specific folders or, in the case of sharing folders via servers, authorising the possible operations of each user in a personalised way (reading, writing, access denied, etc.).
To best protect your data, especially when you are traveling, it may also be necessary to prevent any attempted theft of your laptop/tablet.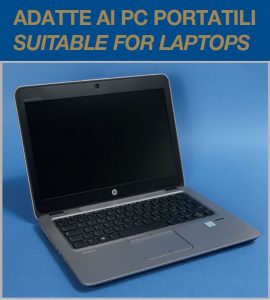 In this case, it will be possible to use a safe which, being suitable in terms of dimensions and specifically designed for use in hotels, hospitals, institutions and communities, offers an excellent solution for safeguarding all portable electronic devices. This is the case for the MAXI Viro Safes with dimensions suitable for laptops up to 15.4" (or 4/3 format).
Moreover, these safes can be equipped with an internal electrical socket which allows you to recharge laptops and smartphones even when they are kept locked.
The technical specifications of the two safes are given below.
Construction features:
The two safes are the same in terms of the structural features. Let's see these details in detail:
| | |
| --- | --- |
| External dimensions (mm) | 200 x 410 x 400 |
| Internal dimensions (mm) | 193 x 406 x 350 |
| Door opening space (mm) | 150 x 336 |
| Door thickness (mm) | 6 |
| Packing volume (litres) | 42.5 |
| Unit weight (kg) | 15 |
Common features:
The two safes allow easy fixing using 2 holes on the back and 2 on the bottom, they are built entirely in steel and have a reinforced door made of 6 mm scratch-resistant painted steel and an internal shockproof mat.
The electronics, powered by 4 simple 1.5 V alkaline batteries and combined with the mechanical mechanism which prevents friction, allows over 10,000 openings to be made with the same set of batteries.
In the event of depleted batteries, the safes make an audio-visual signal and in the 4875 version it is also possible to check the percentage of battery charge on the display. For all models, even if the batteries are missing, the saved codes will remain stored.
Opening and closing operations are motorised: after entering the access code, the door opens automatically in a controlled manner, stopping without striking furniture or the user's hands.
The 4875 model also has an optical sensor (without mechanical wear) which is capable of detecting the actual closure of the door to ensure the correctness of the information in the historical archive. These ultra-low consumption safes also feature an ADA compatible keyboard with Braille reference and acoustic confirmation (for use also by blind people).
The differences:
| | |
| --- | --- |
| MAXI 4875 | MAXI 4870 |
| High brightness alphanumeric display | 4 LED lights on keyboard |
| 6-level Hierarchical Master Code System and Directional Master Keys | 3 Hierarchical Master Codes |
| Historical archive of the last 150 operations, password protected, with possibility of printing; | X |
| 7-minute electronic lock after 5 consecutive incorrect attempts | 15-minute electronic lock after 6 consecutive incorrect attempts |
For more information on MAXI safes, visit our website pages: