This short article provides an answer to the many users who ask us which security solutions are best suited for wooden doors. In particular, we look at the Viro locks for internal and external wooden doors and gates, of the swing or sliding types. 
Rim or mortise locks suitable for:
cellar doors
secondary garage doors
tool shed doors
entrance doors (as additional locks)
Mortise lock (Item 7435)

Viro mortise locks (Item 7435) offer a wide range of backsets (conventionally, the distance between the centre of the hole provided for the cylinder and the dead-bolt coming out of the lock plate is called the "backset") of from 20 to 70 mm, and are compatible with all Viro cylinders and with most of the cylinders on the market.
They are suitable for lightweight manually operated doors, with single swing leaf, such as cellar doors, secondary doors of garages or entrances. On the same door in which a mortise lock is inserted, a rim lock may be used to increase the locking points can also be used, such as for example Item 7553.
They can be combined with handle and/or knob plates which, based on the finish of the plates and the cylinder, can be chosen with different colours, brass-plated or with bright chrome and satin chrome finishes.
Note: the Item 7435 locks, in the versions with narrow backsets (from 20 to 35 mm) with one throw, are also suitable for metal profiles, as in the case of office doors.
To find out the technical characteristics and sizes of Viro mortise locks, visit the dedicated website page.
Double hook rim door locks (Item 7553)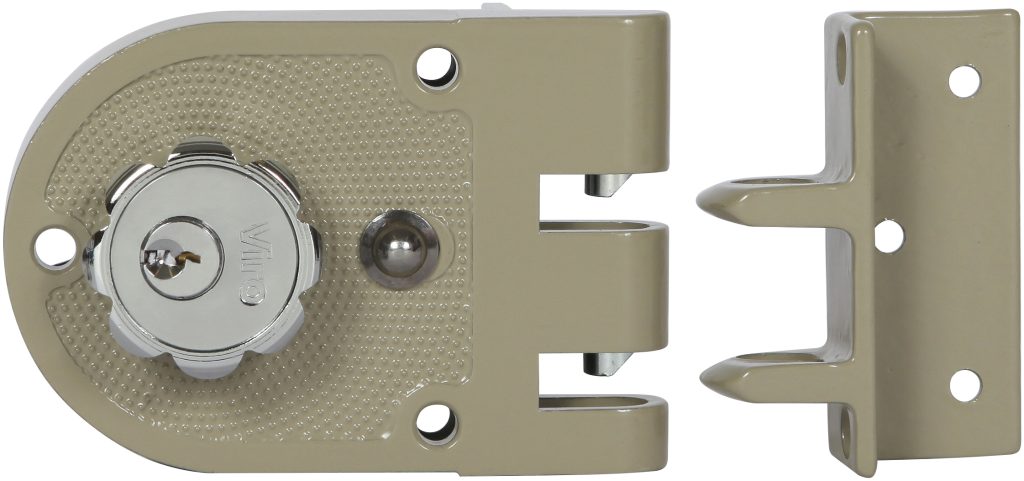 This lock is suitable for installation on hinged or sliding doors, both as a main lock in cellar doors or sheds, and as an additional solution in entrance doors (e.g. associated with a mortise lock). 
The lock has a 60 mm backset and is supplied with a solid nickel-plated brass cylinder, fixed internally to the knob, which is also nickel-plated and with a comfortable grip. 
Note: the Item 7553 locks can also be installed on hinged or sliding metal doors.
The technical sheet for the Viro rim lock Item 7553 provides details of the operation and the characteristics of the components.