Garage security has recently been a hot topic in the Viro Security Blog. We have spoken about the importance of replacing the locks supplied as standard with the door with high security locks and how to best protect automated garage doors, both sliding and up-and-over ones, with electric locks and specific accessories. In addition to the fact that it can frequently represent a preferential route for thieves and intruders which leads straight into the house, the garage is also the place where the most bulky items such as cars, mopeds, bikes and other objects are kept which have both an economic and sentimental value.

Multi-point Locks
Multi-point locks, amongst the other products for the security of up-and-over garage doors, offer up to 4 locking points, thus allowing a greater coverage of the perimeter of the door, which could be subjected to burglary attempts by lifting or breaking.
How to increase the security level of multi-point locks
In order to increase the security level of multi-point locks it is also possible to:
Reinforce the lock by adding a security escutcheon against ripping and drilling and galvanized steel external plates to cover existing holes (item 806

).  
Apply a protective plate on the inside, to prevent any attacker, by drilling through the sheet metal, from being able to hook and rotate the handle located inside (art.1.8234.0465

).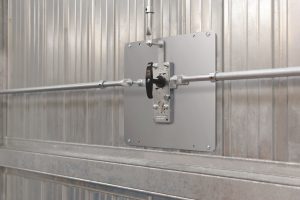 Increase the number of locking points already provided by the lock (art.1.4234.D)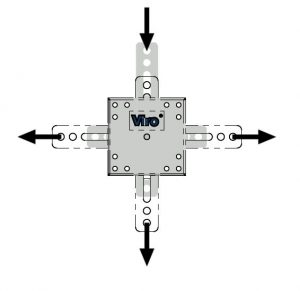 Why is it so important to increase the locking points?
It is worth knowing that the more locking points there are, the fewer will be the parts sensitive to burglary. Up-and-over doors are, in fact, are often subjected to violent forcing attempts. The two main scenarios are:
Attempted break-in by using vehicles to which hooks and ropes are attached to pull the up-and-over door and rip it open.
Attempted break-in by using a crowbar which, by levering, allows the metal sheet to be pulled outwards. The weakest points that can be attacked in this way are generally the bottom corners.
We will speak about the methods and accessories needed to increase the locking points in the next blog.
Do you have a garage to protect? Find out how to do it on garage.virosecurityclub.com!