In the previous article, we limited ourselves to presenting the features and uses of this modular system designed for the storage of valuables with controlled access. Today, on the other hand, we will describe in detail the technical features of the main module and the software in use. We will then go on to present the possible configurations indicating dimensions, number of compartments by configuration and weight.
All RFIDs accepted
The RFID standards accepted by the device are listed below, if the customer wants to use their own badges already in use (Viro is, however, still able to provide suitable badges with the standard noticeboard antenna):
Mifare 1K, 4K, Ultralight, DesFire
Cards ISO/IEC 14443-4: CD97BX, CD light, DesFire, P5CN072 (SMX)
Innovision Jewel cards: IRT5001
FeliCa cards: RCS_860, RCS_854
In Italy, in case the customer has a Zucchetti system with proprietary RFID already in use and wants to maintain the use of the relative badges it will be possible to request incorporation of an antenna, as an optional extra, which allows it to be read. (Zucchetti, an Italian company which produces software, hardware and services for companies, banks, insurance companies, professionals and trade associations, in fact it has proprietary RFID, not compatible with the Viro AMS electronic notice board in its standard version).
Power supply and software in use
The device is suitable to be powered by a 220V AC mains with a power supply unit supplied as standard with the product and it has an internal emergency battery.
The software supplied allows the management of the following functions:
User type settings: administrator, maintainer, user.
Definition of the correspondence between authorised subjects and specific keys / objects to be taken.
List, with date and time, of the withdrawal and deposit operations and of the subject who carried out the operations.
Interrogation via LAN network for selective extraction of the operations carried out, in relation to specific keys/objects and/or particular subjects.
Reporting failure to return by sending an e-mail to the system administrator.
Vibration sensor for checking burglary attempts and warning system and automatic sending of a notification e-mail.
Available configurations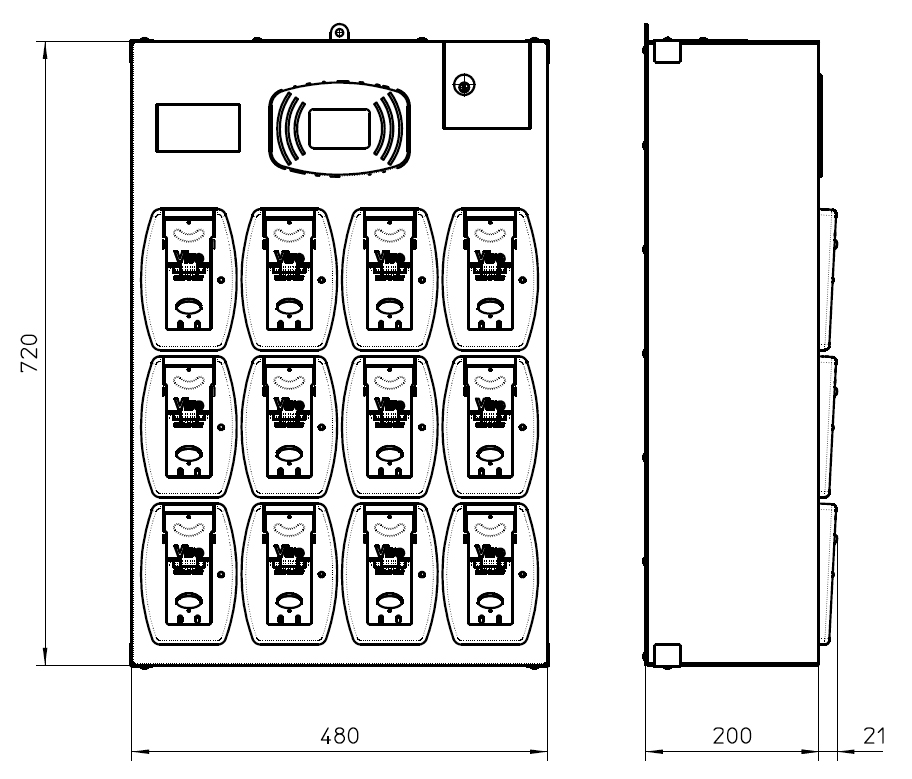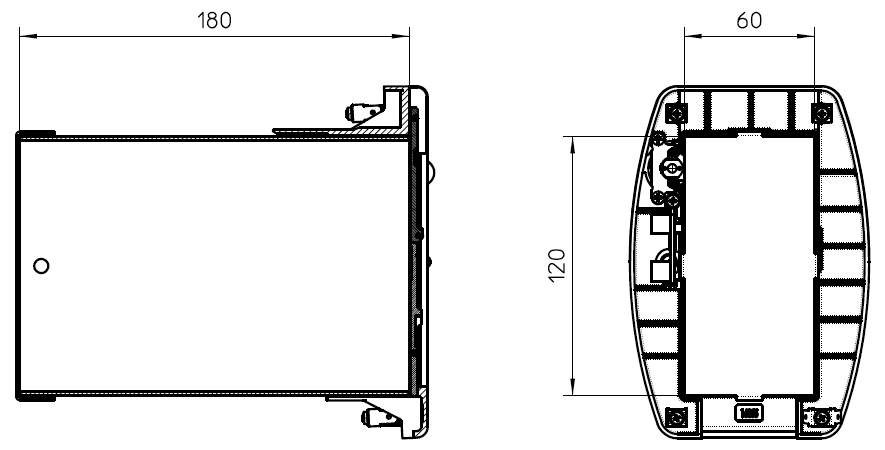 1. Configuration 12 + 16 left = 28 compartments
Base module weight 12 compartments: 24 kg
Additional module weight 16 compartments: 22 kg
Total weight: 46 kg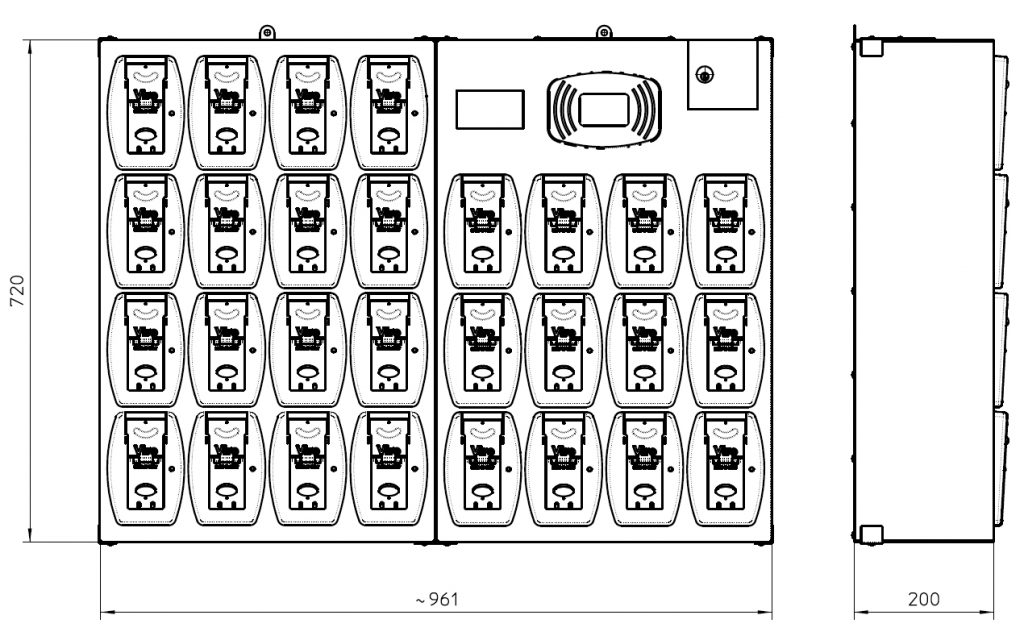 2. Configuration 12 + 16 below = 28 compartments
Base module weight 12 compartments: 24 kg
Additional module weight 16 compartments: 22 kg
Total weight: 46 kg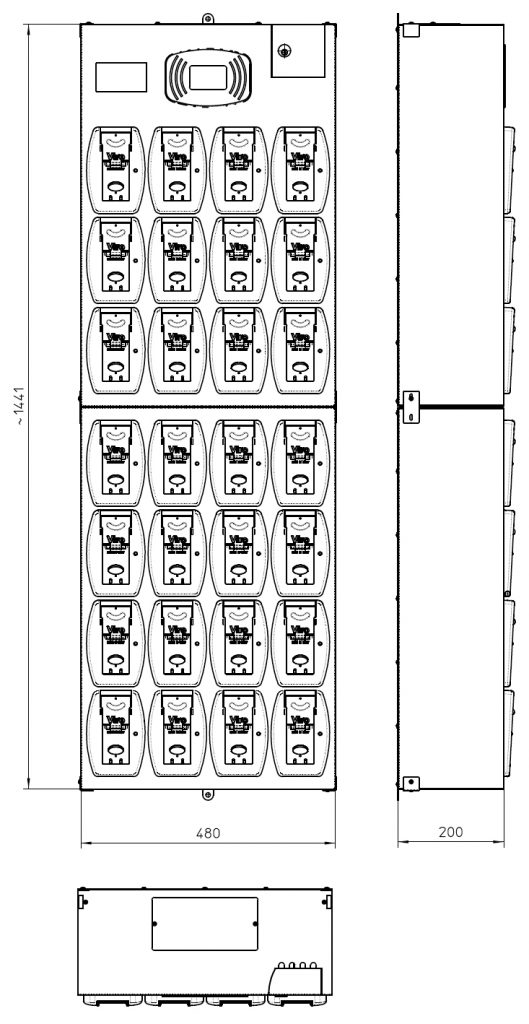 3. Configuration 12 + 16 + 16 = 44 compartments
Base module weight 12 compartments: 24 kg
Additional module weight 16 compartments: 22 kg
Total weight: 68 kg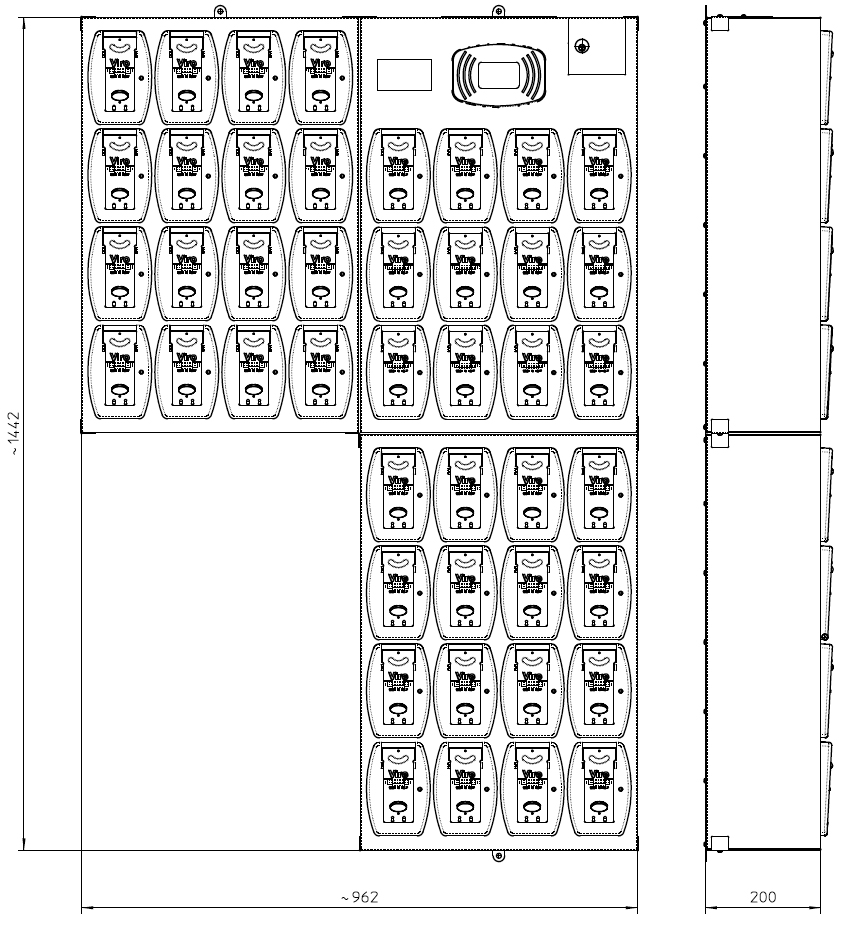 4. Configuration 12 + 16 + 16 + 16 = 60 compartments
Base module weight 12 compartments: 24 kg
Additional module weight 16 compartments: 22 kg
Total weight: 90 kg