The weak points of roller shutters and up-and-over doors
The material of the shutter or door
locks fitted originally
As already suggested in previous blogs, the first things to do to make any door safer are to check that the manufacturing material is resistant and to replace the lock supplied as standard with a security type one.
However, shutters and up-and-over doors are exposed to different types of attacks. In order to prevent pull attempts, for example, among the various options available on the market we find the fastening unit.
Fixing unit: (style) New Condor VS bell-shaped lock
Each fixing unit, from the simplest bell-shaped padlock to the most articulated New Condor has the aim of fixing the shutter to the ground and preventing any attempts to break it.
However, although the function is the same, each of the items mentioned has different features. Let's see what they are: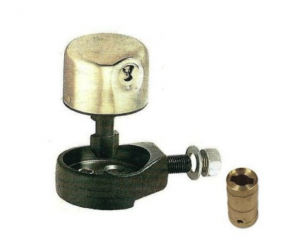 With the bell padlock, the shutter is fixed at a single point, since this protective item normally has only one fixing point and, consequently, will only be able to cover a rather small area. In fact, it is only a pin, a washer and a bolt which secure the shutter.
The risk, in this case, is that the padlock remains anchored to the floor and the shutter is pulled anyway.
On the contrary, the more advanced fixing units, such as the Viro Condor or the New Condor, can be anchored and/or welded to the shutter by means of several fixing points. These Viro safety items, for example, in addition to being equipped with two sturdy anchorage screws, are supplied complete with plates which, when placed on the inner surface of the shutter/door, allow a larger area to be covered and possibly welded and to hinder pull attempts as much as possible.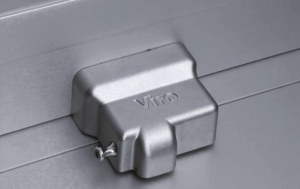 Importance of manufacturing materials
Just as it is important that the door is made of good quality materials, the security items mustalso be made of suitable manufacturing materials.
Here's how the Viro New Condor reacts to hammer blows (the videos were independently made by a Central American distributor who wanted to test first-hand the resistance of the fixing unit to the blows that a thief might try to inflict):
Conclusion: The robustness of the fixing unit body, the door security lock and a greater number of fixing points significantly increases the ability of shutters and up-and-over doors to withstand violent attacks.
>> Discover all the features of the New Condor on the dedicated page!